Home Page- Music Appreciation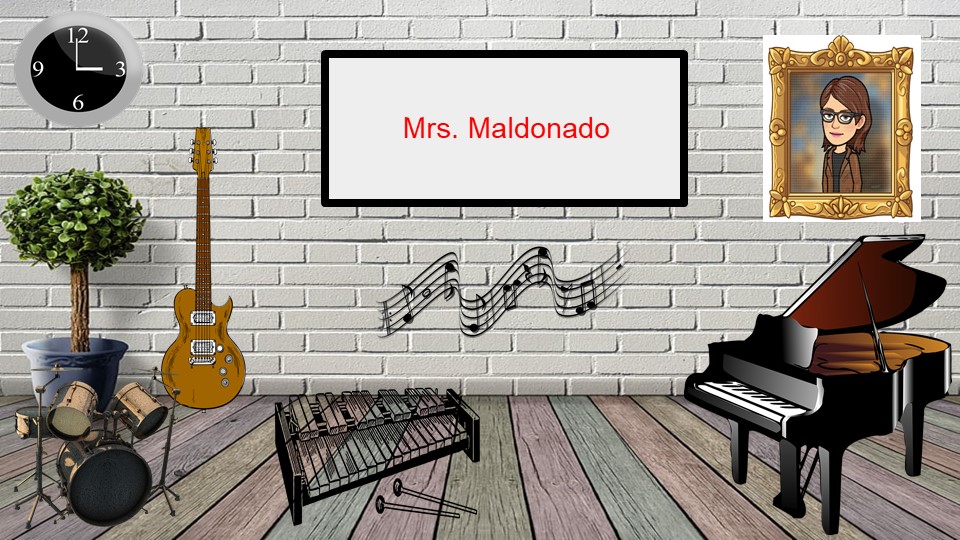 Welcome Back Music Students!
My name is Jacquelyn Maldonado, the Music and Band Director at Lasara ISD. I am so excited to get started with our music program this year.
I know this has been a difficult year, but we can make this a fantastic year if we work together.
I hope you had a great summer and are ready to start our Music Appreciation class. This year will be a little different than what we are use to, but change can be a great learning experience.
For our High school music students, attendance for concerts will still be required. This can be accomplished online and attending our local Fall and Band concerts here in Lasara. We can only do this if we follow the rules and stay safe.
Let's have a great year and look forward to seeing everyone soon!
Remind code: @7h79fc
Music Appreciation Class Schedule:
11th period- Monday-Friday- 3:11-3:56
Music Appreciation
2020-2021
Course Description
The purpose of this course is to introduce students to various types of music from the different historical periods, basic elements of music, and expose the students to a wide array of musical styles and genres. Students will attain a better appreciation for music through listening, discussions, projects (individual or group), exams, and presentations.
Course Objectives
Upon completion of the Music Appreciation course, students should be able to:
Identify the musical elements.

Identify musical time periods and the characteristics of music from those periods.

Identify significant composers and musicians from different time periods.

Identify the different instrumentation used during the different time periods in music

Critique musical pieces from the different historical periods.
Musical Instruments
Section A – String Instruments
Section B – Woodwind Instruments
Section C – Brass Instruments
Section D – Percussion Instruments
Music Time Periods
Section A – Medieval Era
Section B – Renaissance Era
Section C – Baroque Era
Section D – Classical Era
Section E – Romantic Era
Section F – Twentieth Century
Section G – Popular Music (if time permits)
Materials - notebook, pencil, and other materials as outlined by teacher .
Course Materials:
1. Text: Various text on Music Appreciation, Instrument books, theory workbooks
2. Various Audio Examples
Grading:
A. (Daily /Classwork/Homework 45% of Grade) (Entered in Weekly) Includes participation in class activities, such as daily group activities and individual activities.
C. Test Grades (35% of Grade)—Includes written tests, presentations, journal/reports, etc.
D. Six Week Test (20% of Grade) Written or Presentation
Total Six Weeks Grade: 100
Reflections:
Students will have a few minutes everyday to reflect on the class lecture and discussions. They will write notes on their personal reflection on the topic given. They will write a personal reflection paper to turn in at the end of each week.
Listening:
The student will listen to music from the various periods for the listening portion of each test in the classroom. It is the student's responsibility to listen to these pieces of music on their own for each test. You will be given a list of music to listen to each week.
Schedule for 1st Six Week: Subject to change
December 7

Renaissance Introduction

Questions and discussion

December 8

Renaissance continued with Josquin des Prez

Questions and discussion

December 9

Renaissance Pop

Questions and discussion

December 10

Renaissance-

Palestrina and Gabrielli-listening and questions

December 11

Renaissance cont.:

Motet and Male and Female Choirs.

December 14

Review Renaissance Questions

December 15

Review Renaissance music-listening only

December 16

Written Test on

Renaissance

December 17

Continue testing on Renaissance

listening

December 18

Early Release

January 11

Introduce the Early Baroque Period

Key Word

discussion

January 12

Listening exercises:

Barbara Strozzi

"Aria, I want to die (1651) Part 1

January 13

Early Baroque

The Harpsichord and musical Elements

January 14

The Venetian Play choral Motet

January 15

Giovanni Gabrieli and his music, Motet: In the Churches

January 18

Early Baroque Opera

Claudio Monteverdi

January 19

Listening exercise for Opera

Orfeo-Toccata and Act 11, Recitative, "At the bitter news

January 20

Early Baroque

Henry Purcell-Dido and Aeneas

January 21

The Rise of Instrumental Music:

Sonata and Concerto Grosso

January 22

The Baroque Sonata and The Baroque Concerto: Arcangelo Corelli

And Vivaldi-The Four Seasons

January 25

Review Early Baroque Music

January 26

Written and Listening test on Early Baroque music

January 27

Late Baroque Music: Bach and Handel

January 28

The Brandeburg Concertos and The Cantata

January 29

Bad Weather Day

February 1

Listening exercises on Bach and Handel's music

February 2

Review Renaissance and Baroque Period, written portion

February 3

Review Renaissance and Baroque period, listening portion

February 4

Six Week Exam,

Written portion

February 5Six Week Exam, listening portion

February 1

Review Written Part of test.

February 2

Review Listening portion of test.

Renaissance and Baroque

February 3

Six Week Listening portion of test

February 4

Six Week Written test

February 5

Make-ups