LIMITED TIME! Order yours today
The Lasara ISD Yearbook Staff would like to announce that the 2015 - 2016 yearbooks are currently for sale. The yearbook will include photos of staff and students from all grade levels as well as activities, clubs, and sports teams. Please make sure to buy one as a keepsake of your child(ren)'s school year . . .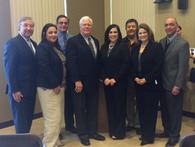 salvarado@lasaraisd.net
Lasara ISD Superintendent Sara A. Alvarado was the closing speaker on Wednesday, January 27, 2016 at the USDA Rural Development Press Conference in recognition of the Broadband Recovery Act. Ms. Alvarado discussed the recent upgrade to 1 gigabit of broadband for Lasara ISD and the impact it has made in the classrooms throughout the . . .
Current Highlights