LIMITED TIME! Order yours today
The Lasara ISD Yearbook Staff would like to announce that the 2014 - 2015 yearbooks are currently for sale. The yearbook will include photos of staff and students from all grade levels as well as activities, clubs, and sports teams. Please make sure to buy one as a keepsake of your child(ren)'s school year . . .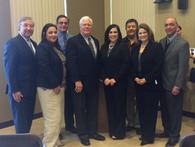 salvarado@lasaraisd.net
STAAR testing is taking place this month. We remind all students who are taking the STAAR tests to get plenty of rest and make plans to be at school on time. Teachers and staff have worked diligently to prepare all of our students for our state exams so we encourage our students to give their best efforts when taking their . . .
Current Highlights