Home Page-Elementary Music 2020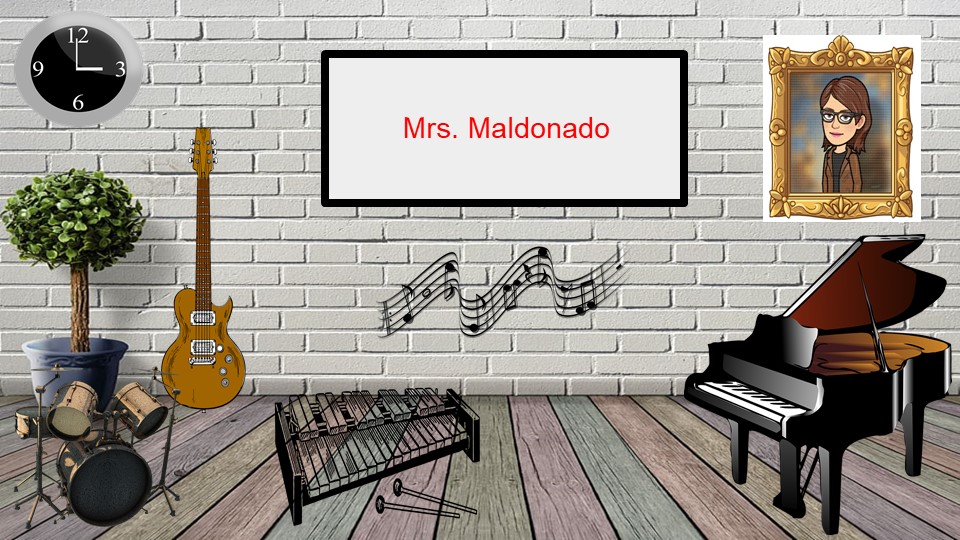 Welcome Back Music/Band Students!
My name is Jacquelyn Maldonado, the Music and Band Director at Lasara ISD. I am so excited to get started with our music program this year.
I know this has been a difficult year, but we can make this a fantastic year if we work together.
I hope you had a great summer and are ready to start playing music again. This year will be a little different than what we are use to, but change can be a great learning experience.
For our Elementary music students, we will continue to perform before a live audience, just on a smaller scale than last year. We will continue to learn non-pitched as well as pitched instruments at home.
Let's have a great year and look forward to seeing everyone soon!
Remind Code: @g7h79fc
jmaldonado@lasaraisd.net
Elementary Music Class Schedule:
Pre-K- Thursday- 9:00-9:30
Kinder - Tuesday- 9:00-9:30
First Grade- Monday and Tuesday - 9:35-10:15
Second Grade - Wednesday and Friday - 9:35-10:15
Third Grade - Monday and Tuesday - 10:21-11:00
4th Grade- 8:00- 8:45 Monday, Tuesday, and Friday. (Alternates with 5th on Friday) 4th grade will start on Friday schedule September 18, 2020
5th Grade - 8:00-8:45 Wednesday, Thursday, and Friday ( Alternates with 4th on Friday) 5th grade will start their Friday schedule on September 11, 2020.
4th-5th Grade-Groundwork Grid -3rd six week period - Subject to Change
December 7

4th Grade

Rhythm Joy to the World and Scene 7

December 8

4th Grade

Rhythm- Deck the Hall and Scene 8

December 9

5th Grade

Rhythm-Jingle Bells and Scene 1-2

December 10

5th Grade

Rhythm-Oh Little Town of Bethlehem and Scene 3-4

December 11

4th and 5th Grade

Scene 5-6 and Rhythm to Jingle Bells on Recorder

December 14

4th and 5th Grade

Scene 1-3 with music, Jingle Bells, Deck the Hall, and We Wish

December 15

4th and 5th Grade

Scene 4-5 and music, Oh Little Town and Oh Come all Ye Faithful

December 16

4th and 5th Grade

Scene 6-7 and music, Silent Night and Joy to the World

December 17

Run-through on Scenes 1-8 with all music

December 18

4th and 5th Grade Christmas Performance

January 11

4th Grade

Pitch/Phrases

Martin's Cry and Down by the Riverside

January 12

4th - Recorder continued with Review of notes and note values

January 13

5th Grade

Pitch/Phrases

Martin's Cry and Down by the Riverside

January 14

5th-Recorder continued with Review of notes and note values

January 15

4th grade

Recorder Quiz on fingerings and note values

January 18

4th Grade

Martin Luther King Day discussion and Rhythm/Signing with We Shall Overcome

January 19

4th Grade

Recorder and Rhythm with C and high D-Pizza Polka

January 20

5th Grade

Martin Luther King Day discussion and Rhythm/Signing with We Shall Overcome

January 21

5th Grade

Recorder and Rhythm with C and high D-Pizza Polka

January 22

5th Grade Quiz on theory and music symbols

January 25

4th Grade

Introduce the musical, The Cat and the Rat. (Story and music intro).

January 26

4th Grade

Rhythm/Beat

Ist and 2nd endings

Introduce the first song, Down Jamaica Way

January 27

5th Grade

Introduce the musical, The Cat and the Rat. (Story and music intro).

January 28

Rhythm/Beat

Ist and 2nd endings

Introduce the first song, Down Jamaica Way

January 29

Recorder 4th

Continue with Go Tell Aunt Rhody.

Rhythm- Quarter and Half notes

February 1

4th Grade

Continue with musical, Copy Cat. Introduce rhythm for Recorder parts

February 2

4th Grade

Recorder rhythm for recorder 1 and 2

February 3

5th Grade

Continue with musical, Copy Cat. Introduce rhythm for Recorder parts

February 4 Recorder rhythm for recorder 1 and 2

February 5

Recorder parts for Copy Cat

Rhythm
Third Grade-Groundwork Grid-Subject to Change
December 7

Third Grade

Rhythm

Hear the Bells with Recorder

December 8

Third Grade

Rhythm

Hark Hear the Bells with hand bells

December 9

December 10

December 11

December 14

Third Grade

Run-through with Christmas program music

Rhythm/Tempo

December 15

December 16

Third Grade

Christmas Performance

Six Week Test

December 17

December 18

January 11

Third Grade

Rhythm/Beat

Have a Happy New Year

January 12

Third Grade

Introduce We Shall Overcome for Martin Luther King Day

With S.Lang

January 13

January 14

January 15

January 18

Third Grade

Continue practicing Sign Language for We Shall Overcome and perform

January 19

Third Grade

Recorder continued with Review on fingerings and note values

January 20

January 21

January 22

January 25

3rd-Form

Introduce Black History Month with

Keep your Eyes on the Prize

January 26

3rd-Verse/refrain

And Expression

Dynamics/Tempo. And mood with Back of the Bus

January 27

January 28

January 29

February 1

Review music and theory for Recorder from last week

February 2

Quiz on Fingerings and note values

February 3

February 4

February 5
Pre-K and Kinder - Groundwork Grid- Subject to Chang
December 7

December 8

Kinder

Rhythm

Gingerbread cookies, Rock

Around the Clock.

December 9

December 10

Pre-K

Rhythm

Journey to Bethlehem and Christmas Star, and Angel

December 11

December 14

December 15

Kinder-Rhythm/Beat

Rock Around the Clock and La Navidad

December 16

Kinder Christmas

Performance

Six Week Test

December 17

Pre-K

Christmas Performance

Six Week Test

December 18

January 11

January 12

Kinder

Rhythm/Beat

Have a Happy New Year and Sing About Martin

January 13

January 14

Pre-K

Rhythm/Beat

Have a Happy New Year and Sing About Martin

January 15

January 18

January 19

Kinder

Rhythm/Tempo

Review and Turn Me Round

January 20

January 21

Pre-K

Review and One Snowman, Two

January 22

January 25

January 26

Kinder

Rhythm/Beat

One Hundred Days

January 27

January 28

Pre-K

Rhythm/Beat

One Hundred Days

January 29

February 1

February 2

Kinder

Rhythm/Dynamics

Valentine's Day

February 3

February 4

Pre-K

Rhythm/Dynamics

Valentine's Day

February 5
First-Second Groundwork Grid - Subject to Change
December 7

First Grade

Form and Steady Beat

Wrap the Hall and Twinkle and Shine

December 8

First Grade

Rhythm

Living Tree and and Gotta Get a Tree

December 9

Second Grade

Form Steady Beat

Wrap the Hall and Twinkle and Shine

December 10

Second Grade

Rhythm

Living Tree and and Gotta Get a Tree

December 11

First and Second Grade

Run-through on musical, Twinkle and Shine

December 14

First Grade – Rhythm, Steady Beat, and Tempo

Run-through on musical, Twinkle and shine

December

December

First Grade and Second Grade

Performance for Twinkle and Shine

December

December

January 11

First Grade

Rhythm/Beat

Have a Happy New Year

January 12

First Grade

Rhythm/Beat

We Shall Over come

January 13

Second Grade

Rhythm/Beat

Have a Happy New Year

January 14

January 15

Second Grade

Rhythm/Beat

We Shall Over come

January 18

First Grade

Expression

Signing with We Shall Overcome and

January 19

First Grade

Expression

Friends All Around Us

w/accom

January 20

Second Grade

Signing with We Shall Overcome and

January 21

January 22

Second Grade

Expression

Friends All Around Us

January 25

First Grade

Introduce the musical, "The Electric Cat."

January 26

First Grade

Rhythm/Beat

After School

Character Try-outs

January 27

Second Grade

Introduce the musical, "The Electric Cat."

January 28

January 29

Second Grade

Rhythm/Beat

After School

Character Try-outs

February 1

First Grade

Review Rhythm and Form for After School

February 2

First Grade

Introduce All I Need is a Friend

Rhythm/Tempo/

Quarter note/rest

February 3

Second Grade

Review Rhythm and Form for After School

February 4

February 5

Introduce All I Need is a Friend

Rhythm/Tempo/

Quarter note/rest