Home Page-Middle School Music/Band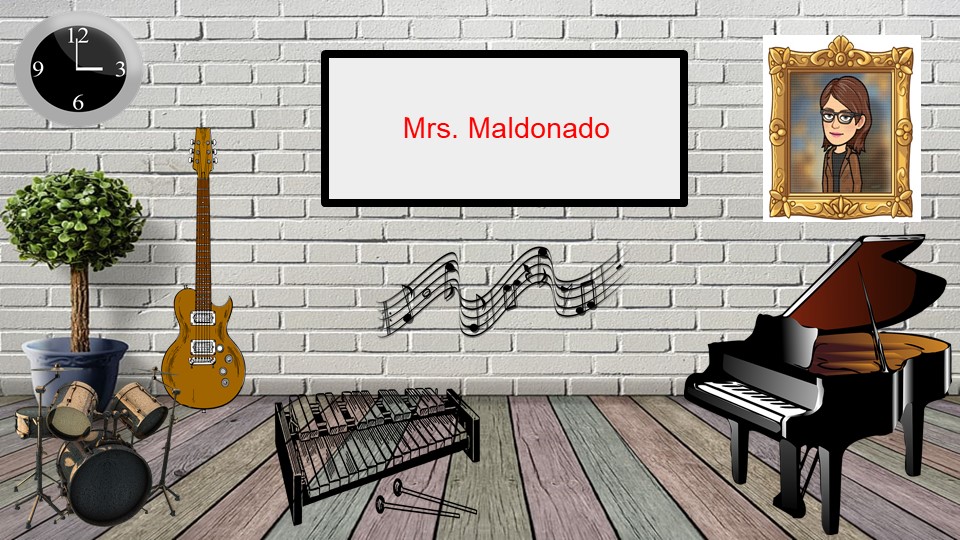 Welcome Back Music/Band Students!
My name is Jacquelyn Maldonado, the Music and Band Director here at Lasara ISD. I am so excited to get started with our music program this year.
I know this has been a difficult year, but we can make this a fantastic year if we work together.
I hope you had a great summer and are ready to start playing music again. This year will be a little different than what we are use to, but change can be a great learning experience.
For our Middle school music/band students, concerts and other performances will take place in a small setting as well. We want to give everyone an opportunity to continue performing for concerts, musicals, and other events this year. We can only do this if we follow the rules and stay safe.
Let's have a great year and look forward to seeing everyone soon!
Middle School Band Schedule:
6th Grade - 11:55-!2:35 Tuesday, Thursday, and Friday (Alternates with 7-8 every Friday) 6th Grade schedule will start September 11.
7-8 Grade- 11:55-12:35 Monday, Wednesday, and Friday (Alternates with 6th Grade every Friday) 7-8 Grade will start September 18.
Remind Code:@g7h79fc
Lasara ISD Middle School Band Syllabus
956-642-5466
Teacher: Jacquelyn Maldonado Course Title: Middle School Band
Date: 2020-2021 School Year Grade Level: 6th-8th Grade
Time: Monday-Friday
Required Text: Essential Elements for Band (Provided by School) and Individual Sheet Music.
Course Description:
Middle School Band is open to instrumentalists in grades 6th through 8th who want to further their study of instrumental music. Middle School Beg/Advanced Band meets 4 days a week (Advanced Band meet Monday and Wednesday, and Beginner band meet Tuesday and Thursday). They perform two concerts each year. They also perform for all pep rallies/parades and other school functions throughout the year. This course develops additional skills necessary for students to perform in the High School Instrumental Ensembles.
Course Outline:
Each week throughout the year, the class will cover the following objectives: Tempo, Form, Posture, playing position, breathing, tone quality, intonation, articulation, style, fingerings, syncopation, rhythm, dynamics, concert etiquette, Major/minor scales in all keys, and phrasing. In addition, students will have two playing/written quizzes, one written test on theory, and a playing/written for every six-week period.
Course Goals:
1. To select an instrument based on the individual characteristics of the student, and learn how to properly care and maintain an instrument.
2. To produce a quality sound on an instrument through the use of correct embouchure, posture, and breath support.
3. To identify and interpret the note and rest values, meter signatures, and rhythmic patterns.
4. To recognize the note names and produce the appropriate pitches for the practical range of an instrument.
5. To demonstrate accurate playing of scales and literature.
6. To identify and interpret music terminology, tempo markings, and styles.
7. To develop an awareness and understanding of proper intonation.
8. To utilize acquired musical skills in public performances.
Required Materials: Each student is expected to have the following every day:
Pencil
Notebook
Instrument
Grading Plan:
There will be 2 written/playing tests, quizzes, and one written/playing exam at the end of each six-week period.

Each student will participate in several performances during the year. (Christmas and Spring Concerts, Veteran's Day Performance, Pep Rallies, and any other functions outlined by the Band Director.

Grading Policy: Music students will be graded on participation, performances, playing quizzes, knowledge of music theory/history, and written exams.
Daily Participation/Classwork/Homework 45% Written/Playing Tests/Projects 35%, Six Weeks Test 20%
Total Six Weeks Grade-100%
Students may have points deducted as follows:
Any missed assignments not made up by date assigned.
Unexcused absence from a performance that is an extension of the classroom activities, such as school concerts/musicals.
No instrument
* Any missed concerts/musicals must be made up by taking a written comprehensive exam no later than two days after the student returns to school.
Lasara Middle School
Band Hall Rules
Enter the band hall quickly, get your instrument, music and take

your seat

.

Students will check the chalkboard for any theory assignments/music for the day.

Once the director steps on the podium, students will get ready to play and no further talking will be permitted.

Students will start warming up on scales or chorales before class starts.

Students will not play other student's instruments. This is for health reasons as well as instrument repair reasons.

The band director will check the horn and lockers every six weeks to make sure everyone has kept instruments clean, music in music folder, and no visible food or trash.

Students who do not bring their instruments to school will have points deducted from their participation grade for the day. They will do a written assignment during class.

Band students should be respectful and keep hands, feet, and objects to themselves.

Absolutely no gum, candy, or drinks are allowed in the band hall, except at times designated by the band director.

All band students will be required to keep a band notebook for notes and homework assignments. They will also need a pencil, highlighter, paper, and all accessory items for their instruments as outlined by the band director.

Any correspondence sent home by the Band director that requires a parent signature should be returned promptly.

Band students should play their instruments in class and at band functions

only when instructed to do so.
* Attire for the Band Concerts will be black slacks and a white long sleeve shirt for the boys. The girls can wear black slacks or a black skirt with a white blouse.
Additional Rules
When using the practice rooms before, during, or after school, only two people will be allowed at a time.

When you are finished in the practice rooms you will:

stack your chairs

put your stand in the corner,

turn off the light, and

Leave the door OPEN!!!

All band students are encouraged to use the band hall practice room facilities. Band members are encouraged to keep these rooms neat and clean. The chairs and music stands should be kept in place, and any trash needs to be thrown away.
Instrument storage slots are to be used for instrumental storage ONLY!!
Each student is assigned a specific numbered slot, which is to be kept clean.
Instruments are to be put in their cases, and the cases kept closed while in the storage area.
Band students will show pride in the organization by wearing their band shirt on Spirit Day. Band shirts must be tucked in!
Consequences for Breaking Rules
Verbal warning

Written Assignment

Referral to office
I have read and understand all the requirements to participate in the Middle School Band Program.
Parent Name: ________________________________________
P Parent/Guardian Signature: ______________________________
Student Check-out Form: Please sign and return
September 8, 2020
Dear Parents/Guardians:
The students are being issued their own instrument to use until June of 2021. The student will be responsible for the care of these instruments while under their use. If something happens to the instrument because of abuse, theft, or loss, the student will be responsible for the cost/repairs. The student will be given a serial and band number to keep track of their instrument.
Please return the bottom portion of this letter that you have read and understood the terms above. If you have any questions about this letter, please feel free to call me at 642-5466. Thank you for your cooperation.
Sincerely,
Jacquelyn Y. Maldonado
Band Director
____ I have read and understood the terms by which the students will be
issued the instruments.
___________________________ _______________
Parent/Guardian Signature Date
___________________________ _______________
Student Signature Date
08 de septiembre del 2020
Estimados Padres/Guardianes:
Los estudiantes tendrán su propio instrumento para utilizar hasta junio del 2021. El estudiante será responsable del cuidado de estos instrumentos mientras esté bajo su uso. Si algo le sucede al instrumento por causa del abuso, el robo, o la pérdida, el estudiante será responsable del costo/reparaciones. El estudiante será dado un numero del serial y la banda de su instrumento.
Por favor regrese la porciόn inferior de esta carta que usted ha leido y entiende los terminos de arriba. Si usted tiene alguna pregunta acerca de esta carta, llame al numero 642-5466. Gracias por su cooperaciόn.
Sinceramente,
Jacquelyn Y. Maldonado
Directora de la Banda
____ He léido y entendido las reglas por las cuales estos instrumentos serán
dados a los estudiantes.
_______________________________ ______________
Firma del Padre/Guardián Fecha
_______________________________ _______________
Firma del Estudiante Fecha
Schedule for 6th-8th Grade- Second Six Week Period-Groundwork Grid - Subject to Change
December 7

7th-8th Grade

Rhythm on Christmas Cheer

December 8

6th Grade

Rhythm exercises #5, 9, 10, and 11

December 9

7th -8th Grade

Rhythm/Tempo

For Christmas Cheer and Welcome Christmas

December 10

6th Grade

Rhythm on Exercises 5-10, and 11-12

December 11

6th -8th Grade

Whole and Half steps continued

And Playing Christmas Music

December 14

7-8-Cont

working on Christmas music and started six Week Playing test with videos.

December 15

6th Grade

Rhythm for Exercises, 5-14

December 16

7-8 Grade

Continued videos for Six Week Test on

C. Cheer and Welcome C.

December 17

6th Grade

Whole and Half Step exercises

December 18

6th-8th Grade

Videos and Exercises in Book

January 11

7-8 continue with exercises in the book and work on Chorale #1

January 12

6th Grade

Practice exercises in the book. Review 5-14.

January 13

7-8th Grade

Introduce new piece, The Crusaders

Rhythm and Key recognition.

January 14

6th Grade

Introduce Formula for Scale Construction.

C-Major

January 15

6th Grade

Continue with Scale construction

G Major

January 18

7-8 Grade

Introduce BB Rocks on

Rhythm and Tempo

January 19

6th Grade

Introduce The Crusaders

Listening and following Sheet music

January 20

7th and 8th Grade

Practice Crusaders and Bb Rocks on, First sections only.

January 21

Practice First part of Crusaders, focusing on the Rhythm and the Tempo

January 22

6th-8th Grade

6th will continue with scale construction

8th-oractice music and keys

January 25

7th and 8th Grade

Practice music and start learning piece for High School

(Grease)

January 26

6th Grade

Practice exercises in book and perform.

January 27

7th and 8th Grade

Continue practicing sheet music. Rhythm, Tempo, and Dynamics

January 28

6th Grade

Work on Scale construction

Eb and Ab Major

January 29

6th- Scale Quiz

7-8-Playing Quiz

February 1

7th-8th Grade

Practice music and Theory

February 2

Instrumental work and Scales continued with

F# Major

February 3

7th 8th Grade

Practice music and Theory

February 4

Instrumental work and Scales continued with

B Major

February 5

6th-Scale Review

7-8-Music Symbol Review